Mapping
Temperature mapping of climatic chambers, furnaces, ovens, etc.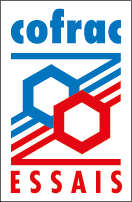 MANUMESURE has COFRAC "Tests" accreditation for temperature mapping
from - 80 °C to + 400 °C
Accreditation no. 1.1623
Scope available at www.cofrac.fr


Six Manumesure technical centres (*) are available to perform these characterizations on site for industrial companies, laboratories, hospitals and manufacturers of furnaces, ovens, freezers, etc.
(*) Technical centres in Lille, Lyon, Marseille, Paris, Pont-L'Evêque & Strasbourg (France)

Characterizations can be performed according to the French NF X 15-140 reference document or the European NF EN 600068 reference document, as required.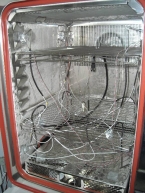 Methodology
Measurements by comparison with standard probes:
at 9 points for chambers smaller than 2 m3
at 15 points for volumes larger than 2 m3
Simulation of door opening-closing shows the reaction time of the chamber.
A "verification report" groups the measurement results, the calculation of the uncertainties, the setpoint deviation and the homogeneity and stability of the chamber.